Adult
Schizophrenia Trial
This is a Phase IIb/III clinical trial testing NaBen as an add-on therapy to existing antipsychotics.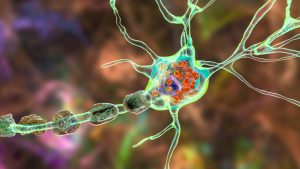 The Adult Schizophrenia Study is one of SyneuRx's efforts to bring new treatment options to schizophrenia patients. It is a late (IIb/III) phase clinical study to examine and confirm the safety and effectiveness of an investigational therapy named NaBen® to improve the symptoms of schizophrenia among adults between 18 and 45 years old.
During this study, participants will not be taken off their current medication. NaBen® will be added to their current medication.
The study is fourteen (14) weeks long, plus a fifty-four-week (54-week) open-label follow-up. During the study, participants will visit a study center eight (8) times, including one (1) screenings visit and seven (7) active treatment visits, followed by a 54-week open-label phase when participants will visit the study center four (4) times during the year. There will be one (1) follow-up phone call to conclude the study.
NaBen® is an investigational therapy which is shown to enhance the glutamate-NMDA receptor function by inhibiting the degradation of D-serine by DAAO (D-amino acid oxidase). NaBen® is used as an add-on treatment to any existing drug therapies.
The mechanism of action for NaBen® is new and different from all existing therapies.
Preliminary clinical data show that NaBen® can address comprehensive symptom domains. It can improve negative symptoms, such as social withdrawal and lack of motivation, as well as cognitive symptoms, such as concentration and memory. Currently, there is no therapy that specifically treats the negative or cognitive symptoms of schizophrenia. In addition, preliminary results show that NaBen® can supplement existing therapies to further reduce positive symptoms (for example, hallucinations, delusions, and suspiciousness) as well.
Frequently Asked Questions